Knight Support
The Knight Support is available to support students through 1:1 appointments in 15 minute increments. Students can use the Calendly links below to select an available time, which will automate a calendar invite and email when the form is submitted. The calendar invite will provide a customized location for each teacher by Block period.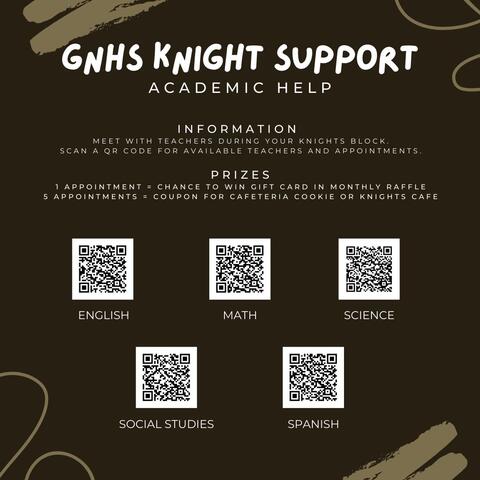 SWAT
SWAT (Students Who Achieve Together) provides peer-to-peer academic aid for all students. This one-on-one environment promotes active learning, creates meaningful social connections, and gives students a better understanding of their course work. With S.W.A.T, students walk away with the confidence and improved study skills that help them excel in any individual pursuit.
SWAT is available every day in the HUB during Knight's Block. Please reach out to Mrs. Welty at jwelty@d127.org to make an appointment.
SWIPE a SWAT is an additional service provided by SWAT tutors to give academic support to classroom teachers. SWAT tutors are available to come to your classroom to help with skills-based lessons (one-on-one or small group instruction). SWAT tutors are happy to help with the writing process, document analysis, lab reports, most levels of math, etc. If you are interested in signing up for SWIPE a SWAT please contact Jen Welty at jwelty@d127.org