Multilingual Programs
Grayslake North High School supports families from all over the world to our learning community. As required by the state of Illinois, Grayslake North provides programs to meet the linguistic and academic needs of students whose native language is other than English (Multilingual). The purpose is to accelerate English language literacy and value each student's social and cultural knowledge.
Qualifying for Multilingual Services
The Home Language Survey is required as part of the school registration process. If a language other than English is spoken in the home and indicated on the Home Language Survey, the student must be screened for English language services within 30 days after the student's enrollment at Grayslake North. The Illinois State Board of Education prescribes the assessment instrument and the qualifying scores for entrance. All students are given the WIDA Screener.
Transitional Bilingual Education
Currently, Grayslake North serves families from many different languages, the vast majority being Spanish speaking. Per state regulations, if an attendance center has 20 or more students who qualify for EL services and speak the same language, a district is mandated to establish a Transitional Bilingual Education (TBE) program for those students. Further assessment determines what those services may look like at Grayslake North.
Transitional Program of Instruction
Grayslake North offers a Transitional Program of Instruction (TPI) in English for the students who speak a language that less than 20 enrolled students speak. Grayslake North uses a collaboration model in accordance with ISBE regulations. Core academic subjects are taught in English with non-EL students and services are provided using specific strategies for ELs.
Bilingual Parent Advisory Committee
The Bilingual Parent Advisory Committee (B-PAC) is called Conexiones and consists of parents/guardians of students enrolled in the bilingual program, bilingual teachers, counselors and community leaders.
The committee participates in the planning, operation and evaluation of the Spanish bilingual program. In addition, important topics relating to education, the district and the community are shared. Bilingual parents, staff representatives, and community members are encouraged to attend. Presentations are in Spanish!
Programas para estudiantes de inglés
La escuela secundaria Grayslake North apoya a familias de todo el mundo en nuestra comunidad de aprendizaje. Como lo requiere el estado de Illinois, Grayslake North ofrece programas para satisfacer las necesidades lingüísticas y académicas de los estudiantes cuyo idioma materno no es el inglés. El propósito es acelerar la alfabetización del idioma inglés y valorar el conocimiento social y cultural de cada estudiante.
Calificación para servicios
La encuesta El Idioma en el Hogar es obligatoria como parte del proceso de inscripción escolar. Si en el hogar se habla un idioma diferente al inglés y se indica en la encuesta, el estudiante debe ser evaluado para los servicios del idioma inglés dentro de los 30 días posteriores a la inscripción del estudiante en Grayslake North. La Junta de Educación del Estado de Illinois establece el instrumento de evaluación y los puntajes de calificación para la entrada. Todos los estudiantes deben de tomar el WIDA Screener.
Educación bilingüe de transición
Actualmente, Grayslake North sirve a familias que hablan una variedad de diferentes idiomas, la gran mayoría es de habla hispana. Según las regulaciones estatales, si un centro de asistencia tiene 20 o más estudiantes que califican para los servicios de EL y hablan el mismo idioma, el distrito tiene la obligación de establecer un programa de Educación Bilingüe de Transición (TBE) para estos estudiantes. Una evaluación adicional determina cómo se verían esos servicios en Grayslake North.
Programa de instrucción de transición
Grayslake North ofrece un Programa de Instrucción de Transición (TPI) en inglés para los estudiantes que hablan un idioma que hablan menos de 20 estudiantes inscritos. Grayslake North utiliza un modelo de colaboración de acuerdo con las regulaciones de ISBE. Las materias académicas básicas se enseñan en inglés para estudiantes que no son EL y los servicios se brindan utilizando estrategias específicas para los EL.
Comité Asesor de Padres Bilingües
El Comité Asesor de Padres Bilingües (B-PAC) se llama Conexiones y está formado por padres / tutores de los estudiantes inscritos en el programa bilingüe, maestros bilingües, consejeros y líderes comunitarios.
El comité participa en la planificación, operación y evaluación del programa bilingüe en español. Además, se comparten temas importantes relacionados con la educación, el distrito y la comunidad. Si le interesa asistir a las reuniones de los padres bilingües, representantes y miembros de la comunidad estarán disponibles para hablar con usted. ¡Las presentaciones son en español!
Valerie Padgett-Krause
Department Chair, Directora del departmento
847-986-3105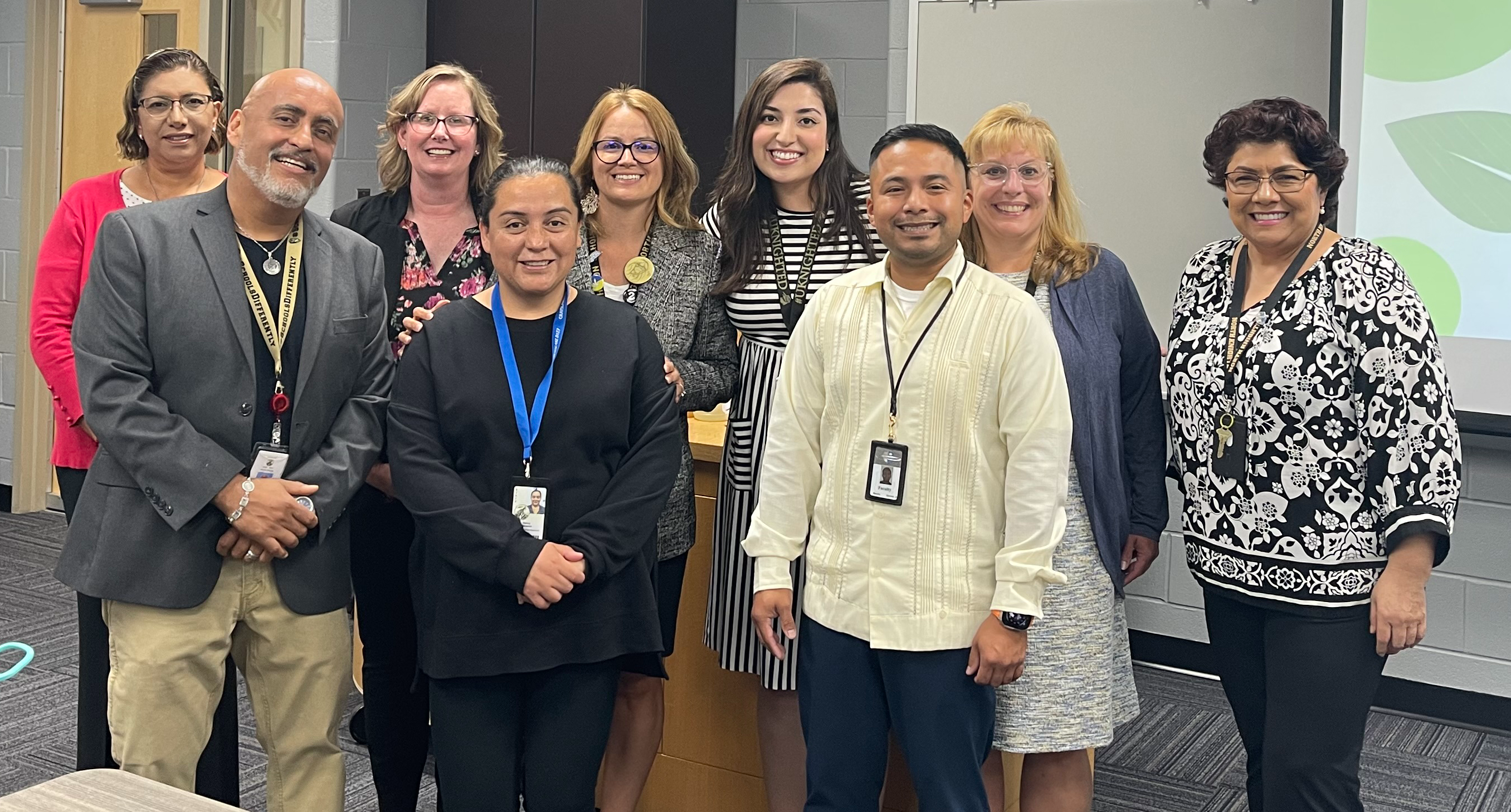 Multilingual Staff 2023-2024