Seniors General Information
Class of 2023!
Graduation will be held on the evening of Thursday, June 1st, 2023.
Congratulations Seniors! Caps & Gowns have arrived and will be delivered on:
Thursday, March 16th
During Lunch Periods
In the main hallway near Cafeteria
If you did not order your Cap & Gown, you can order online Now at Herffjonesil.com or purchase one on delivery day for $55 cash only. No personal checks will be accepted.
You can still order Graduation Announcements and other Senior Products online at HerffJonesIL.com. For any questions about delivery, or to place an order over the phone, please call Herff Jones at 815-756-4743.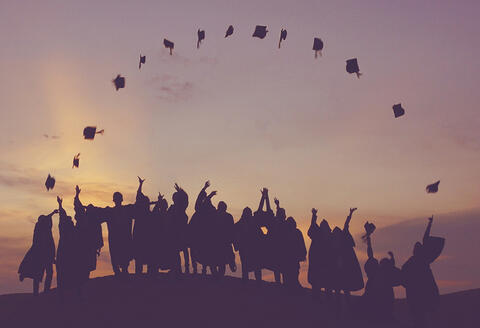 APPLY FOR THE CUM LAUDE PROGRAM << click here. Deadline is February 15th, 2023
HOW TO GET YOUR TRANSCRIPTS << click here
If you have not already done so, please pick up your Herff Jones graduation packet from Mrs. Tompoles in the front main office.
There are many more details to come regarding Graduation. We use Herff Jones as our provider. Please see their website for class rings, graduation announcements, and more!
**Check out the website below to get a GNHS SENIOR sign for your yard! https://www.customlawnsign.com/grayslake-north-hs
**SENIORS: You can have your yearbook portrait taken during picture day (Oct 6 or 7 during Knights Block) OR make an appointment at Total Image Photographics by calling 847-223-5900 for professional senior portraits. Yearbook pictures must be taken by Dec 23rd.
Class Ring Ordering and Sizing
A Herff Jones representative will be here on September 22, 5-7pm for Class Ring ordering and sizing. You do not need to come to this event to order a class ring. It is being offered as a courtesy to those who need help with sizing.
**Seniors must have their picture taken by Total Image Photographics in order to have their picture in the yearbook. If you would like to have the picture taken at the studio, please contact Total Image for an appointment (847) 223-5900. There is no charge for the yearbook photo.
Senior Tribute Ad in the Yearbook
Senior Dedications are a popular feature in the senior class section of the GNHS yearbook. This is an opportunity for parents of seniors to submit a baby, childhood, or early high school picture of their child, reflect upon the past, and convey some words of advice for the future. Order your Senior Tribute Ad Here. The final day to submit your Senior Dedication/Tribute is TBD.

To design and order your dedication, go to www.yearbookordercenter.com, enter job number 8332, and click "Buy A Yearbook Ad." Senior Dedication Ads are $40.00
College and Career Resources <<<
Click here for Resources for Seniors from the College and Career Center!
FINDING YOUR FIT << click here
Your counselors, as well as the College and Career Resource Center (CCRC), are here to give you as many resources as possible to be able to research and figure out what's best for you!
There are SO MANY options for 'life after GNHS' and it's nearly impossible to touch on all of them BUT we will certainly give you information on what we can! So please continue to read the GNHS College and Career Center newsletters when they come out as we try and feature some of the broader options!